Looking for a Homemade Meatloaf recipe for dogs?
Raise your hand if you love meatloaf. Why is this such a love or hate food? Lol. I guess it's the texture? I personally love it — it always tastes homey and comforting, although funnily, I never ate meatloaf growing up. Meatloaf can be a tasty and convenient way to incorporate a variety of proteins and vegetables into your dog's diet.
By making homemade meatloaf for your dog, you can control the quality of the ingredients and ensure that your dog is receiving all the necessary nutrients for their health. And it's one of the easiest things to make! You just throw in all the ingredients in a pan and let the oven do the work. It's also a great way to hide tiny diced vegetables inside. So, here is a dog-friendly version of meatloaf that is super easy, healthy and a cinch to serve. I love that you can pre-cut slices or cubes so you don't need to measure it out for the pups later.
INGREDIENTS:
1 pound lean ground turkey
1 egg
1/3 cup old fashioned oats
1/2 cup quinoa, cooked
1/3 cup diced tomatoes (from the can, no sodium, keep some liquid)
1/2 cup green beans, chopped
1/2 cup carrots, grated
3 – 5 tablespoon dog supplement (I use Canine Complete)
4 – 6 capsules joint supplement (I use Just Food For Dogs Joint Care or Natural Dog Company Liquid Glucosamine)
INSTRUCTIONS:
Preheat oven to 375 degrees.
Mix all ingredients in large bowl.
Spread mixture into a loaf pan. Bake for 45 minutes.
Make sure you get a can of no sodium diced tomatoes and don't drain the liquid! The liquid will add some moisture to the loaf and help meld the ingredients together.
I added green beans and carrots, but you can definitely add whatever your dog likes! Zucchini, broccoli, pumpkin, spinach…
I like to use my Magic Bullet Kitchen Express because it's so easy and small but any food processor will do — or a good ole cheese grater!
Green bean benefits for dogs?
Green beans are an excellent addition to a dog's diet as they are low in calories, high in fiber and packed with essential nutrients such as vitamins A, C, and K, as well as minerals like iron, calcium, and potassium. Green beans are also a good, healthy alternative as a treat option for dogs, and many dogs enjoy the crunchy texture and fresh taste.
Carrot benefits for dogs?
Carrots are an excellent source of nutrition for dogs as they are packed with vitamins, minerals, and fiber. They are rich in beta-carotene, which is converted into vitamin A, an essential nutrient for maintaining good eyesight, healthy skin, and a strong immune system. Additionally, the fiber in carrots can aid in digestion and promote healthy bowel movements. Whenever I make homemade dog food for Weston + Fira, I always add carrots.
Now for the supplements…
My go-to is always Canine Complete. It is full of nutrients like kelp, flaxseed, fish protein powders, calcium, essential fatty acids and antioxidants. It's a green powdery substance and totally smells like kelp!
I like to add Joint Care too but totally optional. You can add a small amount of coconut oil, prebiotics or other supplements your dog may regularly have.
By the way, I just found out Canine Complete even makes one with a joint supplement combined! So that is going to be my next purchase when I run out.
I lined my pan with parchment paper but you can grease it with some coconut oil too. After 45 minutes, you get such a satisfying loaf that's easy to slice and chop!
Two pieces is about enough for one meal, depending on how you slice them.
I never throw away what's left, so any extra green beans, the leftover tomatoes from the can, and oats can be pre-measured and thrown into a ziplock bag for when I'm ready to cook this homemade meatloaf for the dogs again. Next time you have ground meat, you can easily pop your bag of ingredients out of your freezer or fridge, add your raw ingredients (egg, meat, supplements) and bake a loaf in no time!
Hope you enjoy making this and your pup loves! Let me know what you think. 🙂
Natural Dog Company Liquid Glucosamine. 15% off code: WTFRENCHIE
Farberware Nonstick Loaf Pan Rose Gold.
Parchment Paper Nonstick.
Teak Wooden Spoon.
Don't have time to make your own homemade dog food?
Here are a few fresh dog food companies I recommend…
Just Food For Dogs is the first fresh dog food company that I tried, which was almost a decade ago! They specialize in providing high-quality, human-grade food for dogs. Their meals are prepared in their own kitchens, following strict food safety standards, and are tested for nutritional content by accredited vets. There's a decent variety of flavors like beef + potato, lamb + rice, white fish + sweet potato and turkey + macaroni.
With over 200 locations nationwide, including all Petco stores, I find myself easily picking up Just Food For Dogs when I'm running low on dog food and need to get it fast!
The Farmer's Dog is also one of the more popular dog food brands out there! Did you see their most recent Superbowl commercial? *tear jerker*
The meals are pre-portioned and personalized for your dogs' specific needs based on a profile you create when signing up. The food is gently cooked to maintain whole food integrity and natural nutrients, then frozen and shipped directly to your door. Sign up and get 50% off your first order!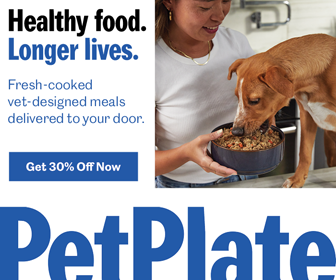 PetPlate also offers delicious, balanced dog food that looks like real food. They come in convenient little containers and and an easy subscription plan (a full plan could cost as little as $1.29/day!). Your dog will thank you!
Curious if your dog has food allergies? Try this at-home test.