Wholesome and Easy Homemade Dog Food Recipe – Keep Your Pup Happy and Healthy
Try this healthy homemade dog food recipe for your dogs! It's full of antioxidants, healthy fats and omegas. My French bulldogs do so well on salmon — it's definitely become their favorite.
Salmon for dogs?
Salmon is an excellent source of nutrition for dogs due to its high protein content, as well as amino and omega-3 fatty acids that are essential to their health. These nutrients can provide several potential benefits to dogs, such as boosting their immune system, reducing inflammation, and even helping to alleviate skin allergies. It helps boosts their immune system, reduce inflammation and even reduce skin allergies. Amino acids are a must in an animal's diet. Dogs that do not get enough of the essential amino acids can have healthy issues ranging from: weakened immune systems and skin and coat allergies.
Incorporating salmon into your dog's diet can be as easy as making a homemade salmon-based meal or even adding salmon oil to their food.
This homemade dog food recipe includes baked salmon, raw shredded veggies, cooked quinoa and pureed pumpkin (lots of fiber). This one's a variation of the original dog food recipe I've posted before. Weston can be really picky and has been known to skip meals but with this version, he hasn't missed a meal yet!
HOMEMADE DOG FOOD RECIPE:
Total cost of this recipe: $94.24 (not including the Canine Complete + coconut oil, so we could round this up to $100)
This number changes depending on the cost of the salmon and produce. The salmon cost me $84.22 for 6 lbs at $13.99/pound, but you can definitely plan for deals + sales. To lower the price of the recipe, you can do half salmon, half turkey or beef instead, too.
1. Bake salmon in oven 375 degrees for 30 minutes.
2. Cook quinoa with water until quinoa soaks up all liquid and fluff with fork. You'll have over 4 cups of cooked quinoa.
3. Shred all veggies with grater.
4. Mix all ingredients together!
How many servings for this recipe?
This recipe makes 26 cups of food.
I feed Weston (24 lbs) about a cup of food per meal; breakfast and dinner. I store all the food in a few gallon-size ziploc bags and freeze them. They're easy to thaw (just transfer a bag to the fridge the night before) and easy to portion. This recipe should last 2 weeks for one dog.
RECIPE:
6 lbs salmon
2 cups quinoa
3 zucchinis
2 yellow squash
4 carrots
2 cans pureed pumpkin
7 oz melted coconut oil (almost a cup)
Any supplement/vitamin you like or recommended by vet (try Canine Complete)
Bake salmon in oven 375 degrees for 30 minutes.
Cook quinoa with water until quinoa soaks up all liquid and fluff with fork. You'll have over 4 cups of cooked quinoa.
Shred all veggies with grater.
Mix all ingredients together!
Don't have time to make your own homemade dog food?
Here are a few fresh dog food companies I recommend…
Just Food For Dogs is the first fresh dog food company that I tried, which was almost a decade ago! They specialize in providing high-quality, human-grade food for dogs. Their meals are prepared in their own kitchens, following strict food safety standards, and are tested for nutritional content by accredited vets. There's a decent variety of flavors like beef + potato, lamb + rice, white fish + sweet potato and turkey + macaroni.
With over 200 locations nationwide, including all Petco stores, I find myself easily picking up Just Food For Dogs when I'm running low on dog food and need to get it fast!
The Farmer's Dog is also one of the more popular dog food brands out there! Did you see their most recent Superbowl commercial? *tear jerker*
The meals are pre-portioned and personalized for your dogs' specific needs based on a profile you create when signing up. The food is gently cooked to maintain whole food integrity and natural nutrients, then frozen and shipped directly to your door. Sign up and get 50% off your first order!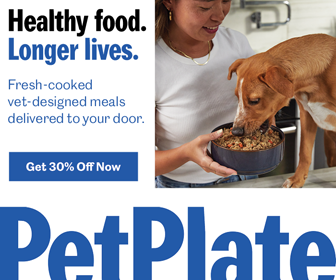 PetPlate also offers delicious, balanced dog food that looks like real food. They come in convenient little containers and and an easy subscription plan (a full plan could cost as little as $1.29/day!). Your dog will thank you!
Curious if your dog has food allergies? Try this at-home test.