A new year, a new recipe!
Happy 2021! I've been trying to create some variety in the pups' meals, so I came up with this healthy dog food recipe that the pups are enjoying.
If you're new to making homemade dog food, here's my original dog food recipe which is a great place to start and a Salmon Quinoa recipe that is definitely the dogs' favorite.
Why I make my own homemade dog food:
Homemade dog food allows me to have complete control over the ingredients, especially knowing Weston + Fira have certain food allergies. Weston is allergic to poultry, pork and white fish, so lamb is a great addition to his meal times.
I can be sure they're getting high-quality, nutritious food without any harmful additives or preservatives. French bulldogs are known to be gassy, but Weston + Fira hardly ever fart and their coats are soft and bright, which I attribute to their diets!
Curious if your dog has food allergies? Try this at-home test.
Let's start…
You'll need:
2 lbs ground lamb (or other protein)
1 cup riced cauliflower
1 carrot, grated
1 cup blueberries
2 tablespoons coconut oil
1 tablespoon chia seeds
2-3 tablespoons Canine Complete supplement
Non-fat plain Greek yogurt
Sardines in fresh water
Because Weston is allergic to poultry + white fish, he eats a lot of beef, salmon and venison, so when I was at the market and saw ground lamb, I had to pick it up for them!
Lamb meat is very healthy for dogs and is full of protein, essential amino acids and vitamin B12. Not to mention — a great choice of protein if your dog is allergic to most proteins. I've noticed many French Bulldogs are allergic to poultry.
Cook the lamb with a little bit of olive oil, then drain and rinse with cold water.
Cook riced cauliflower with the 2 tablespoons of coconut oil over medium heat for 5-7 minutes. Cauliflower is safe for dogs in small amounts and best if lightly cooked. Raw cauliflower can lead to indigestion and/or gas! I just cooked a small amount of cauliflower (1 cup) for some added fiber and a healthier substitution in place of quinoa or grains.
Pour all cauliflower + coconut oil mixture to ground lamb in a big bowl. Mix in shredded carrots, blueberries, chia seeds + a few tablespoons of Canine Complete.
Add a dollop of greek yogurt and a fresh sardine on top!
Sardines are a great addition to your dog's diet due to their high nutritional value. They are rich in omega-3 fatty acids, protein, CoQ10, and vitamin D, which can help improve your dog's coat health, reduce inflammation, and boost their immune system. Additionally, sardines contain calcium, phosphorus, and other important minerals that can support your dog's bone health. The high levels of antioxidants found in sardines can also help protect against cellular damage and reduce the risk of chronic diseases.
Since they are rich in fatty acids, I wouldn't give them a sardine more than twice a week. You can add one on their food as a topping or just mash it in. Make sure you buy sardines in fresh water with no salt added.
Here are the sardines I bought:
Blueberries: great source of vitamins, minerals and antioxidants
Chia seeds: calcium (more than milk!), omega-3 fatty acids, reduces inflammation
Greek yogurt: natural probiotics
Sardines: promotes skin + coat health, keeps immune system strong

Don't have time to make your own homemade dog food?
Here are a few fresh dog food companies I recommend…
Just Food For Dogs is the first fresh dog food company that I tried, which was almost a decade ago! They specialize in providing high-quality, human-grade food for dogs. Their meals are prepared in their own kitchens, following strict food safety standards, and are tested for nutritional content by accredited vets. There's a decent variety of flavors like beef + potato, lamb + rice, white fish + sweet potato and turkey + macaroni.
With over 200 locations nationwide, including all Petco stores, I find myself easily picking up Just Food For Dogs when I'm running low on dog food and need to get it fast!
The Farmer's Dog is also one of the more popular dog food brands out there! Did you see their most recent Superbowl commercial? *tear jerker*
The meals are pre-portioned and personalized for your dogs' specific needs based on a profile you create when signing up. The food is gently cooked to maintain whole food integrity and natural nutrients, then frozen and shipped directly to your door. Sign up and get 50% off your first order!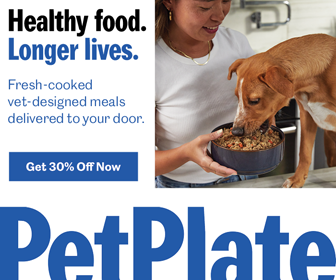 PetPlate also offers delicious, balanced dog food that looks like real food. They come in convenient little containers and and an easy subscription plan (a full plan could cost as little as $1.29/day!). Your dog will thank you!