Are you head over heels for your adorable French Bulldog puppy? These little bundles of joy bring so much laughter and love into our lives. As responsible dog owners, it's essential to provide them with the best nutrition possible to support their growth and overall health. In this article, we'll dive into the world of feeding your French Bulldog puppy high-quality, protein-rich foods and maintaining a balanced diet to prevent weight issues. Let's ensure your furry friend gets the nourishment they need for a happy and healthy life!
Best Food for your French Bulldog puppy
According to vets and French Bulldog experts in the US, the best bulldog diet should contain proteins, carbohydrates as well as an equal amount of healthy fats for brain power and energy. When it comes to selecting the best food for your French Bulldog puppy, it's essential to opt for higher quality options. These top choices are perfect because they contain fewer unnecessary fillers and more nutrients that are vital for your pup's growth and development.
"As you probably know, French Bulldogs have quite a few heath challenges. Just like humans, your dog could be allergic to some kind of food, such as corn or soy, but in most cases, they are actually allergic to fillers found in processed food. These fillers are used to add mass to the product, but have no nutritional value and are difficult to digest. The best way to save your dog from this kind of suffering is avoiding fillers and giving him whole food ingredients." [ source: FrenchBulldogBreed.net ]
While it might be tempting to go for inexpensive dog food for your Frenchie pup, it's important to keep in mind that cheaper options often come with their drawbacks. These budget-friendly choices mostly trigger allergies and contribute to various health problems. Common brands like Iams, Alpo, Purina and Pedigree don't have great reviews and aren't recommended for the sensitive French bulldog puppy stomachs.
[ baby Fira! ]
Top food brands for your French Bulldog Puppy
This is the food our breeder was feeding her puppies and we kept Fira on it til she was 6 months old. Having earned the highest of all ratings, NutriSource is a great choice for puppies!
The brand uses a unique "Good 4 Life" system that includes probiotics, prebiotics, and natural fiber to support digestive health and nutrient absorption.

Contains all the essential nutrients for the optimum health of your pet.

Contains no animal by-products, whole corn, artificial additives or preservatives.
Besides containing nearly all of the essential nutrients, the fact that you can get grain-free varieties and non-grain-free varieties is great. It features fresh Wisconsin duck, fresh chicken, fresh lamb, and the nutrition rich whole eggs & real cheese. Salmon oil and probiotics have been added to aid digestion and promote good health. No corn and no wheat.
Another popular option, Taste of the Wild is many dogs' favorites mainly because it is 100% natural, grain-free alternative.
Made with a blend of bison & roasted venison, omega fatty acids, berries and minerals.
Highest consumer ratings!
Other Notable Brands
Natural Balance Premium Limited Ingredient Dog Food
Nulo Freestyle Adult Dog Food
Wellness CORE
Earthborn Holistic Coastal Catch Grain-Free Dry Dog Food
Royal Canin Medium Bulldog Dry Dog Food
What NOT to feed your French Bulldog
Apple seeds
Avocado
Cooked bones can easily splinter when chewed by your dog
Chocolate
Coffee
Corn on the cob
Grapes
Milk
Mushrooms
Onions
Peaches
Persimmons
Plums
Raisins

Cooking your own homemade dog food
After 6 months of age, your pup is ready to transition to fresh, cooked foods. I always prefer to feed fresh food, as even the best grain-free kibble still has fillers. And trust me, your pup will lick his bowl clean every time with fresh, cooked foods.
Make sure to always ask your vet if you decide to go this route. Homemade dog food allows you to know exactly what's in their food, especially if they have certain food allergies. Here is my most popular homemade dog food recipe.
Need to find out what food allergies your dog may have? I used NutriScan and found out Weston + Fira were allergies to so many ingredients I would have never even known!
Don't have time to cook?
Just Food For Dogs is the first fresh dog food company that I tried, which was almost a decade ago! They specialize in providing high-quality, human-grade food for dogs. Their meals are prepared in their own kitchens, following strict food safety standards, and are tested for nutritional content by accredited vets. There's a decent variety of flavors like beef + potato, lamb + rice, white fish + sweet potato and turkey + macaroni.
With over 200 locations nationwide, including all Petco stores, I find myself easily picking up Just Food For Dogs when I'm running low on dog food and need to get it fast!
The Farmer's Dog is also one of the more popular dog food brands out there! The meals are pre-portioned and personalized for your dogs' specific needs based on a profile you create when signing up. The food is gently cooked to maintain whole food integrity and natural nutrients, then frozen and shipped directly to your door. Sign up and get 50% off your first order!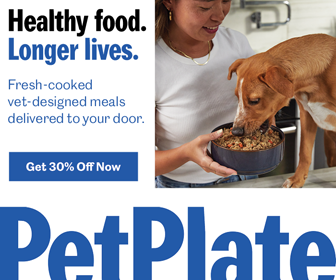 PetPlate also offers delicious, balanced dog food that looks like real food. They come in convenient little containers and and an easy subscription plan (a full plan could cost as little as $1.29/day!). Your dog will thank you!