Easy + Healthy Homemade Dog Food Recipe
Make delicious homemade dog food in less than 30 minutes!
I originally found this easy healthy homemade dog food recipe on a popular French Bulldog Facebook group. Almost everyone in the group was feeding their Frenchie this recipe or at least had tried it, because of allergies or stomach issues. It's very popular, so I had to try it myself! Plus, keep reading on for an easy and healthy homemade snack for dogs.
The original recipe has a few cans of beans in it but I omitted those — beans seem way too heavy and unnecessary. Plus they might even give your dog excessive gas. This recipe started with recommended mashed potatoes, too, which you could do but I wanted to leave those out since it also seemed pretty heavy. Weston is also allergic to potatoes. I've adjusted this healthy homemade dog food recipe over time and it's much better for my French bulldogs, in my opinion.
For the healthy homemade dog food, you'll need these ingredients:
6 lb protein
2-3 bags of frozen vegetables (mix + match: peas, green beans, spinach, carrot/cauliflower)
1 can (14 oz) pure pumpkin puree
3 tbsp olive oil
3 tbsp coconut oil
Any supplement/vitamin you like (I've used crushed up calcium powder, a probiotic supplement for dogs and a joint supplement for dogs)
Canine Complete is an all-in-one supplement that I use more than any others. It has everything your pup needs in one go!
Now that you have all the ingredients you need, here are the steps you need to make your own healthy homemade dog food, which is great for dogs with allergies. It's super easy and makes a pretty large batch.
Cook the meat with 3 tbsp olive oil and drain the excess fat. If it's beef, I wash off all the extra oils and fat in a strainer.
This step is optional but I like to grate the frozen vegetables in a food processor, so they're small and easily digestible for the pups.
In a large bowl, mix the meat, pumpkin puree, vegetables, 3 tbsp melted coconut oil and supplement.
Spoon into ziplock bags and freeze until ready to use. That's it!
[ Disclaimer: Use your own judgment and of course, speak to your veterinarian if you have questions/concerns. ]
Curious if your dog has food allergies? Try this at-home test, which I love.
I've used this NutriScan allergy test for both Weston and Fira. Thanks to the NutriScan test, I found out that Weston is allergic to poultry, pork, white fish, potatoes, and dairy. Fira is allergic to pork!
You might actually be pretty surprised to find out what your dog is allergic to. Your pup might be scratching because they just ate chicken (which seems to be very common), and it can be hard to correlate those two for some dog parents. I tend to test Weston and Fira every five years or so, since things can change sometimes.
Then, when you find out your pup has allergies, it can be really hard to find dog food that makes a good fit. That's why I love making this easy healthy homemade dog food — I always know what's in the food I'm feeding my pups and I can customize anytime.
Can my dog eat frozen vegetables?
The answer: Yes. I know it might seem strange at first to toss your pup a frozen carrot, but it can actually be great to give to puppies who are teething. It's also a fun thing to chew on for older dogs.
The frozen vegetables are a healthy and easy homemade snack for dogs, filled with fiber and other important vitamins. You can give your dog frozen apples (cut into pieces), butternut squash, cucumber, and spinach.
Are there certain frozen vegetables you should avoid feeding your dog? Definitely. The ones to watch out for are onions, and also technically this is a fruit, but grapes. Grape and raisins are highly toxic to dogs so do NOT give them those, ever.
Also, don't overdo it. You might think you're giving your dog a healthy boost, but your pup doesn't need SO many veggies. Just a few a day is fine or give them as a treat every so often. It's really a great low-calorie snack for dogs, and good for their teeth.

Did you try making this easy and healthy homemade dog food? Or did you try giving your pup frozen vegetables? Let me know — I'd love to know how it went.
If you're looking for more helpful solutions for your dog's allergies, try this oatmeal paw bath, which is great for dogs who constantly lick or scratch at their paws.
Don't have time to make your own homemade dog food?
Here are a few fresh dog food companies I recommend…
Just Food For Dogs is the first fresh dog food company that I tried, which was almost a decade ago! They specialize in providing high-quality, human-grade food for dogs. Their meals are prepared in their own kitchens, following strict food safety standards, and are tested for nutritional content by accredited vets. There's a decent variety of flavors like beef + potato, lamb + rice, white fish + sweet potato and turkey + macaroni.
With over 200 locations nationwide, including all Petco stores, I find myself easily picking up Just Food For Dogs when I'm running low on dog food and need to get it fast!
The Farmer's Dog is also one of the more popular dog food brands out there! Did you see their most recent Superbowl commercial? *tear jerker*
The meals are pre-portioned and personalized for your dogs' specific needs based on a profile you create when signing up. The food is gently cooked to maintain whole food integrity and natural nutrients, then frozen and shipped directly to your door. Sign up and get 50% off your first order!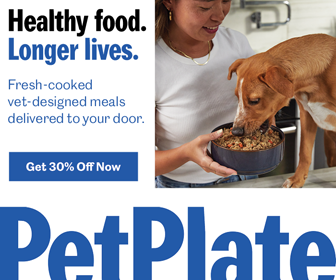 PetPlate also offers delicious, balanced dog food that looks like real food. They come in convenient little containers and and an easy subscription plan (a full plan could cost as little as $1.29/day!). Your dog will thank you!