A yummy do-it-yourself dog food recipe for French Bulldogs
As a parent to two of these bat-eared characters, we know with this breed, our pups can be finicky with food and also prone to food allergies. A lot of dog owners, especially parents of Frenchies like me, turn to recipes for homemade dog food.
Because of that, when Weston was a puppy, I started cooking him food myself because of his super sensitive stomach (aka: vomit central) and he LOVED it. He got leaner, farted less and hardly ever vomited. He also looked forward to his meals and licked his bowl clean — woohoo!
Fira's the lucky one and has been eating homemade cooked dog food since we brought her home, so she has no idea what kibble is and I'm sure would stick her nose up to it. Weston has become quite the food snob and will only eat cooked foods — I even tried to get them on a raw diet and they refused the raw! Picky pups.
As Weston got older, various companies were founded with cooked, human-grade foods so it's nice to have options when I don't have time to cook. We love Pure Dog Food, PetPlate, Just Food For Dogs which are all nutritionally balanced.
A couple years ago, we got Weston and Fira an allergy test — I haven't even gotten one myself even though I've wanted to for years but yep, they got one first. #whocanrelate? I used the Nutriscan Food Allergy test.
Weston didn't really show too many symptoms (only licked his paws occasionally) but knowing how many French Bulldogs have allergies, it seemed like a logical idea…
WELL, Fira is only allergic to pork but Weston is allergic to chicken, turkey, pork, dairy, white fish, sweet potatoes and a few other things. Hence the need to create our own homemade dog food recipe. We were feeding him almost all of those ingredients on the daily, EEK.
That really limits our choices and he gets bored eating the same thing over and over, so I decided to mix up his feeding regime and do homemade dog food again to alternate. I like to schedule an afternoon to make a HUGE batch and fill up the freezer. It's easy, promise!
Here's my recipe for homemade dog food:
INGREDIENTS:
3 lbs ground beef (or any protein)
1 cup uncooked millet (or any other whole grain: quinoa, rice, pasta)
1 tbsp olive oil
1 carrot, shredded
1 zucchini, shredded
1 squash, shredded
1 apple, chopped
1 tbsp calcium powder
1/4 cup unsweetened coconut flakes or coconut oil
1/2 cup pumpkin puree (canned or homemade)
I also add in a few heaping tablespoons (follow their serving instructions) of Canine Complete which is a multivitamin supplement containing probiotics, minerals + so much more. I usually add half a scoop directly into their food bowls when it's serving time. Otherwise, I'm horrible at math and don't know exactly how much to put in the entire recipe. This supplement added to this dog food recipe should contain everything your dog needs, but of course, do your own research as every dog is different. Weston + Fira have had great success with Canine Complete and have never vomited or had any adverse reaction from it.
---
1. Bring 1 cup of whole grain to boil in a pot of water. I overcook it so that it's soft and easily digestible. Drain.
2. While that's boiling, shred/chop the veggies.
3. Cook ground beef with olive oil. Drain excess juices and rinse.
4. Mix everything together! No need to cook the veggies. Overcooking the vegetables removes the natural nutrients. The cooked meat and whole grain will soften them up a bit.
The Benefits of Homemade Dog Food:
I can't stress enough the benefits of preparing homemade dog food for your fur baby. Not only do you have greater control over the quality and type of ingredients used, but you can also customize meals to meet your dog's specific dietary needs. Plus, your pup will appreciate the fresher and more flavorful food — Weston + Fira eat their homemade food so fast and never skip a meal. Homemade dog food can also be a more affordable option in the long run and can help avoid potential allergens or fillers that may be present in commercial dog food. As a dog mom, it's important to me to make sure my pups are getting the right nutrition and and preparing homemade dog food is a rewarding and satisfying way to do that. 🙂
Other benefits of ingredients in this homemade dog food recipe:
Olive oil contains omega-3 and omega-6 fatty acids that can promote healthy skin and coat, monounsaturated fats that can support heart health by improving blood circulation and reducing the risk of heart disease, aids in digestion, relieve constipation in dogs and improve the absorption of fat-soluble vitamins.
Coconut improves skin and coat health, aids in digestion and promotes a healthy immune system.
Calcium is essential for dogs as it plays a vital role in maintaining healthy bones and teeth, supporting nerve and muscle function, and aiding in blood clotting.
Pumpkin regulates blood sugar levels, reduces inflammation and provide a natural source of vitamins and probiotics for your dog.
Store in containers or Ziplock bags and freeze. Makes enough for around one week of meals for two dogs (Fira weighs 14 lbs and Weston weighs 24 pounds).
I feed them twice a day: breakfast and dinner. I feed Fira about a cup per meal and Weston gets a little over a cup of this homemade dog food per meal.
Thaw out food the night before or microwave and serve!
Homemade dog food allows you to have greater control over the quality and type of ingredients used, customization of meals to meet your dog's specific dietary needs, and the potential for fresher and more flavorful food that will keep your dog happy, especially those picky pups! Additionally, preparing homemade dog food can be a rewarding and enjoyable experience for dog owners who want to ensure that their furry companion is receiving the best possible nutrition.
I always love my afternoons cooking homemade dog food, with Weston + Fira waiting in the kitchen, and I hope you do too with this recipe!
Disclaimer: use your own judgment and speak to your veterinarian if you have questions/concerns.
If you're pressed for time and unable to prepare your own homemade dog food, don't worry! Nowadays, there are countless dog food brands available on the market. When I started cooking meals for my pup, there were only one or two companies to choose from. However, in recent years, the number of dog food companies has increased significantly, offering dog owners a wide range of choices to select from.
Here are a few I recommend…
Just Food For Dogs is the first fresh dog food company that I tried, which was almost a decade ago! They specialize in providing high-quality, human-grade food for dogs. Their meals are prepared in their own kitchens, following strict food safety standards, and are tested for nutritional content by accredited vets. There's a decent variety of flavors like beef + potato, lamb + rice, white fish + sweet potato and turkey + macaroni.
With over 200 locations nationwide, including all Petco stores, I find myself easily picking up Just Food For Dogs when I'm running low on dog food and need to get it fast!
The Farmer's Dog is also one of the more popular dog food brands out there! Did you see their most recent Superbowl commercial? *tear jerker*
The meals are pre-portioned and personalized for your dogs' specific needs based on a profile you create when signing up. The food is gently cooked to maintain whole food integrity and natural nutrients, then frozen and shipped directly to your door. Sign up and get 50% off your first order!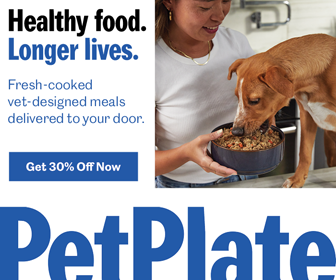 PetPlate also offers delicious, balanced dog food that looks like real food. They come in convenient little containers and and an easy subscription plan (a full plan could cost as little as $1.29/day!). Your dog will thank you!
---
Need to find out what food allergies your dog may have? I used NutriScan and found out Weston + Fira were allergies to so many ingredients I would have never even known!